Succeeding the online market with your eCommerce store mainly depends on the platform you select. The eCommerce platform has a crucial role in delivering a perfect marketplace with all essential features that will attract the target audience and get a greater conversion.
Shopify is one such perfect platform for any budding online store to start with. But every platform has its own pros and cons. And now Shopify users expect some changes and they started preferring Shopify alternatives.
Why Would You Need Shopify Alternatives?
There are many aspects that make the Shopify users search for an alternative platform.
Hard to customize the theme.
No proper email hosting.
Apps are very expensive.
Shopify payment gateways are not user-friendly.
Search engine optimization is not up to users' satisfaction.
Maintains a large complex catalog.
Shopify has complicated form fillings.
Best Shopify Alternatives In 2021
This is the right time for Shopify users to go for a change. Below we have listed the top 5 Shopify alternatives with detailed features along with their pros and cons. Get to understand each platform and go for the best.
Zielcommerce is a highly recommended Shopify alternative that has gained massive global attention from its target audience. This platform provides enhanced flexibility in the form of hosting and software updates than Shopify. Zielcommerce possesses a wide range of marketplace plugins and is a perfect eCommerce solution that will let users sell unlimited products.
With incredible content, you can grab the attention of visitors to your eCommerce store and can get greater order conversion. The platform has excellent integration with all social media tools. Zielcommerce provides numerous revenue channels to increase your margin. Platform inherits advanced AI and ML technologies for understanding buyers' behavior.
Revolutionary features of this marketplace platform:
The platform is available with one-time payment with a lifetime license.
Multilingual and multi-currency support to get global connect.
Familiar payment gateways like Paypal, stripe are integrated.
Easy-to-use UI & UX with mobile responsive design.
Simplified order management system
Effective content management system.
Perfect inventory control process for vendors
Dedicated dashboards for buyers and vendors.
Exclusive mobile applications that run on both Android and iOS platforms.
Pros
Affordable pricing with ready-made solutions.
Buyers can review and rate the product.
Order tracking facility.
Provides instant notification to buyers and sellers regarding orders, latest arrivals and offers.
In-built SEO and other marketing tools for easy branding and promotion.
24/7 customer support and technical guidance.
Cons
No free trial version is available.
Finally, the highly customizable and scalable features of Zielcommerce make the platform perfect Shopify alternatives that suit for all business models.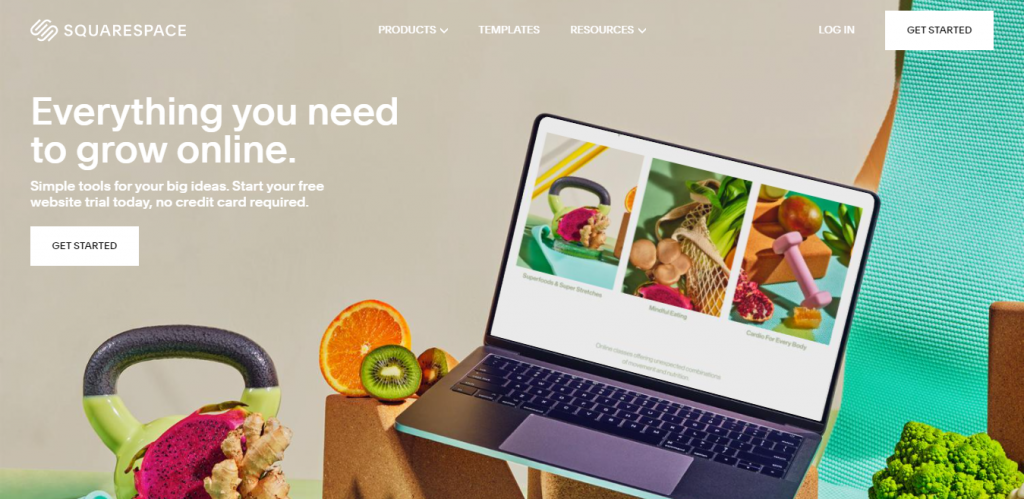 Grow and scale your business with Squarespace as the platform is more budget-friendly and also possesses the best UI & UX in the market. The robust features of this platform make it more attractive and can be considered as one of the best Shopify alternatives. Users can find a reliable and secured platform that ensures data security.
Multiple payment gateways are integrated with this platform and buyers will find multiple payment options to select. This obviously increases the conversion rate and gets you more revenue. The in-app checkout process facilitates mobile users to easily purchase the product without much difficulty.
Salient Features of this Marketplace Software
Device compatible design
Easy integration with existing third-party APIs.
Numerous templates are available
SEO-friendly platform enables easy search engine ranking
SSL certified ecommerce platform.
Multiple delivery options are available.
Pros
Easy social media login and sharing.
Better reporting and analytics features.
Online tracking option for premium users
Simplified product additions with bulk upload options.
Cons
Most of the payment gateways that are integrated are not familiar to use.
More attention is needed on mobile applications.
The cool and attractive features of Squarespace make it more commendable and highly preferable for Shopify alternatives.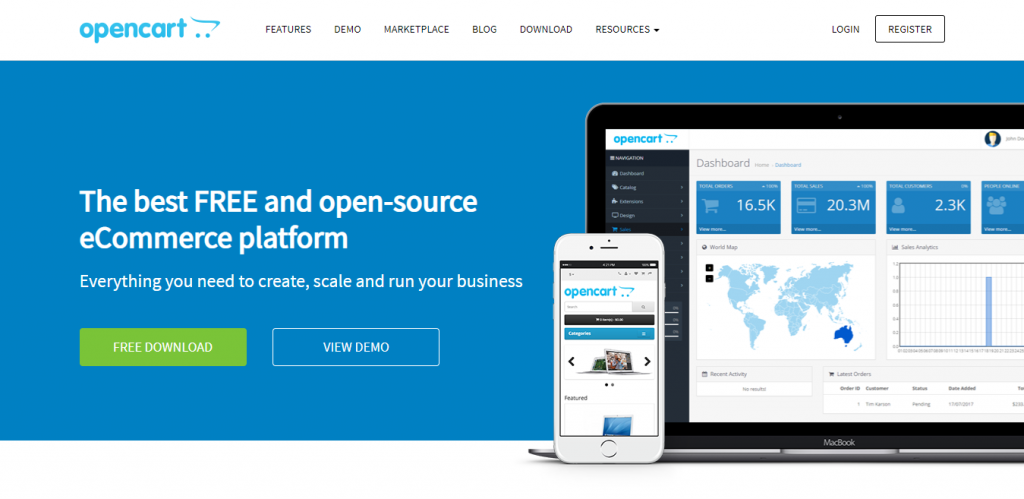 Opencart is an outstanding eCommerce application that comes with a perfect user interface. The platform supports admin, sellers, and buyers with its renowned features. It can satisfy all business models and supports multiple revenue channels. Promoting the platform is quite simple as it is SEO-friendly and can get you an easy search engine ranking.
The host of tools developed to bring better order conversion and maximize your ROI. You can get to use stunning themes and make your eCommerce platform more personalized and also make it more attractive. Also, this platform supports multi-channel selling. Every budding entrepreneur can have a try with this marketplace platform.
Significant features of this eCommerce platform
Fully customizable URLs and themes
Responsive design for your online store.
Multiple add-ons and plugins are available. 
The mobile UX is better when compared to shopify.
Multilingual support 
Unlimited product listing.
Pros
No hidden or transaction fee.
Excellent online store speed.
Support for different payment processors.
Easy to setup and install.
No coding knowledge is needed.
Cons
Limited multi-channel features.
Customer support is not satisfactory.
The product search function is weak.
This platform is one of the best shopify alternatives that gives 3600 ecommerce solutions to users.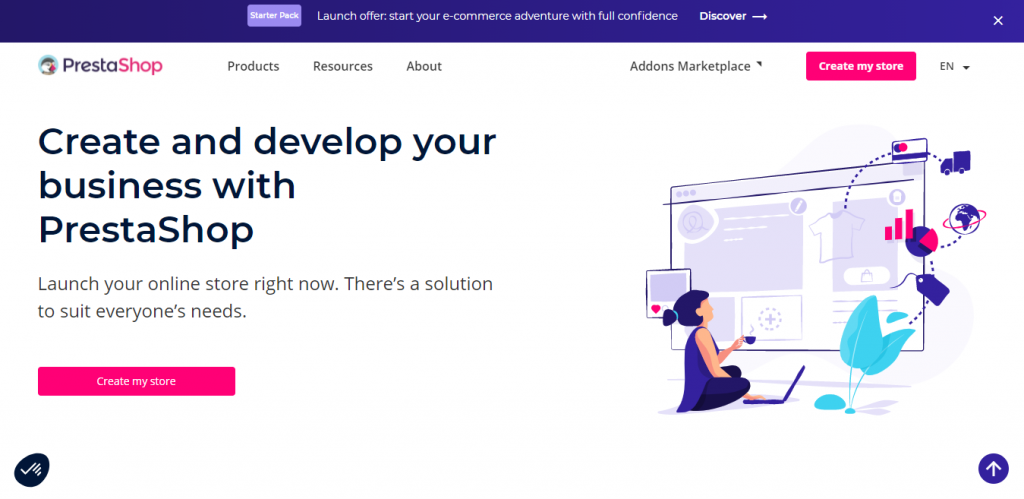 A self-hosted eCommerce platform comes with 100% customization and scalability to users. The user-friendly interface will increase the traffic of the online store effectively. One of the best Shopify alternatives and the platform comes with a perfect content marketing strategy that plays a crucial role in attracting the audience towards the platform.
The in-built marketing features facilitates easy branding and gives better promotion with less marketing expenses. The platform provides native support for multichannel commerce. Users can extend the platform with various add-ons and plugins. Unlike shopify, users can choose the payment gateways for free.
Remarkable features of this shopify alternatives
100% source code ownership
Reliable open-source platform and it is free to use.
Easy user management system
Push notification to send instant alerts to sellers and buyers.
Simple checkout process to increase the conversion.
Pros
Contains 5000+ themes for customization
Unlimited products addition option for vendors
Better traffic for your ecommerce website.
Powerful analytics and reporting options.
Convenient drag and drop store builder.
Cons
No proper hosting support.
Not easy-to-use for beginners.
Difficult to integrate with existing third-party APIs.
If you are searching for shopify competitors with blazing speed and a fully secured platform, then Pretashop is the right choice.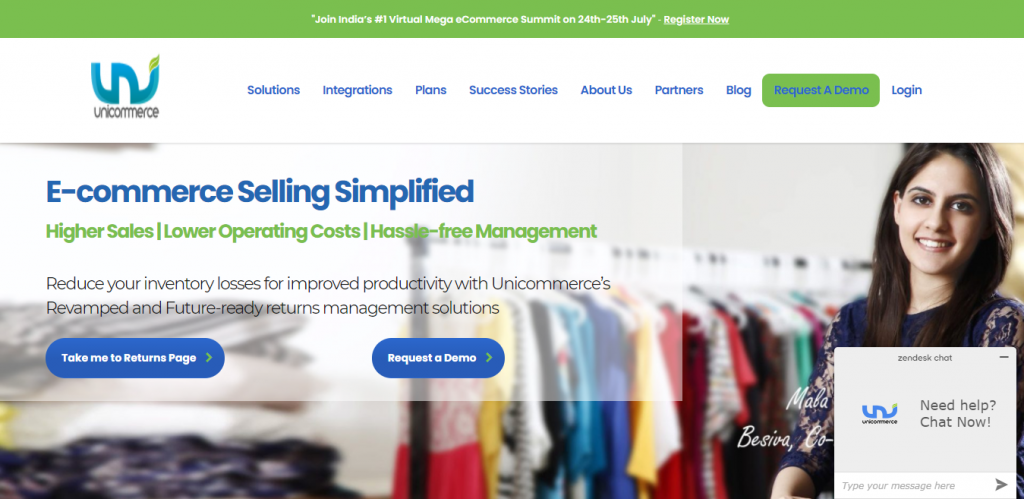 Uniware is complete top Shopify alternatives eCommerce software that comes with native data recovery and advanced marketing tools for promotion. Users can experience the smooth migration of the platform with unaware without any data loss. The free-to-use service will get you all eCommerce services and will help you to transfer the store easily.
Users can sync the inventory in the back-end with less effort. The fully automated eCommerce platform will carry out your business operations in a simplified way. More customization freedom can be enjoyed by every single user. Uniware integrates with more payment processors and facilitates buyers to have better product purchase.
Supporting features of this shopify alternatives
Multiple add-ons and free apps
In-built visual tools to support in building your own ecommerce store.
Best inventory management and order management
Advanced search functionality
Easy integration with additional APIs.
Pros
No additional charges or any other transaction fee
Periodic software updates are available.
Multiple mobile app features
Attractive global features like multilingual support and multi-currency support.
More convenient user interface.
Cons
Not suitable for large-scale business.
Difficult to export data.
Uniware is a fantastic shopify alternatives that comes with pocket-friendly features with affordable pricing.
Shopnix is a trustworthy Shopify alternatives that supports users to build their ecommerce store with minimum technical experience. The package comes with tons of themes that help users to frame their own platform that meets their business requirements. Its feature-rich modules will make us consider shopnix as a Shopify alternatives.
This budget-friendly platform is a perfect Shopify competitor that delivers unlimited bandwidth with better SEO capabilities. Users can also get unlimited storage as it is a cloud-based platform and allows maximum utilization of resources. The shopify alternatives is built with all advanced technologies that will let users understand the customers' buying pattern.
Unique features of this marketplace software
Mobile responsive design
Multiple payment gateways well-integrated with the platform
Customer rating and review system.
In-built marketing tools for gaining brand visibility
Easy third-party API integration
Simple setup process.
Pros
Dedicated mobile applications for all mobile platforms
24/7 best customer support in the industry.
No restriction in product addition.
Hassle-free checkout process
Easy navigation tools available in the application.
Cons
Limited languages are supported.
Reportings can be better.
With fewer budgets you can get multiple ecommerce solutions with shopinx that make the platform an unbeatable Shopify alternatives.
StoreHippo is a versatile shopify alternatives platform that has the same features as Shopify. In some cases, it even has better functionalities compared to Shopify. Users can get hands-on training with the platform from technical experts. Users can get a global audience to their eCommerce store as the platform supports multiple languages and currencies.
Easy product updation is the key aspect that every seller likes about this platform. Sellers can have bulk product updates either as an excel document or CSV file. This will simplify their work and save their time and improve their productivity. This platform provides an easy-access solution to all beginners.
Effective features of this Shopify competitors
Supports multiple business models that sell digital and physical products
Easy integration with existing business applications
Supports multiple store management.
Best UI & UX with eye-catching design and layout.
One-step registration process for sellers.
Pros
Easy commission settings facilitate admin to fix commission to each seller separately.
Simple to use interface with numerous integration.
Multiple hosting options that suit all budget types.
Custom domain options for product branding.
Cons
SEO functions are not up to satisfaction
Advanced search options are unavailable.
With a minimum budget and all essential modules, you can find Storehippo to be a promising shopify alternatives.
Primaseller is a streamlined Shopify alternatives solution that fits into any business model. Multi-channel selling is made simple with this platform and the inventory of all stores is perfectly synced and notified whenever the stock hits the minimum level. The platform has scored well for visitors' experience.
Migrating your eCommerce store from your existing Shopify alternatives to Primaseller has never been a difficult task. Without any data loss, the process is carried out in an effective way. An extensive library of templates is available in this platform that facilitates users to select the theme that suits their business model.
Extraordinary features of this online Shopify alternatives
Multiple delivery options
Real-time order tracking facility.
Multiple communication channels
Better return and refund policy
Customer review and rating system
Pros
Drag and drop editor for self-learners and beginners
Integrated with numerous payment gateways.
Strong SEO performance that gains easy ranking
Consistency in loading speed that enhances the performance of your online store.
Robust in-built marketing tools to gain genuine leads.
Cons
Hosting can be bit expensive
Need more extensions and add-ons.
Primaseller can be a good start for users who desperately search for shopify alternatives.
9. 3dcart
3Dcart is a cloud-hosted eCommerce platform that comes with versatile features with affordable pricing also one of the best Shopify alternatives. Users get an unlimited product storage facility and can add products along with images and descriptions without any restriction. Also the platform supports social media login and facilitates users to use their social media credentials to log in the eCommerce store.
Users can also share their favorites on the social media platform and can get others' feedback. This will increase your brand visibility and you will reach your target audience with less effort. Customers will be notified regarding their abandoned cart and will increase the conversion rate of the platform effectively of this shopify competitors.
Notable features of this Shopify alternatives
Better mobile UI & UX to support mobile users.
Perfect SEO-friendly platform that has a better understanding of Google algorithms.
Dedicated admin and seller dashboard to know about the business performance.
Automated selling processes will simplify the order management system.
Easy and effective inventory control procedures that will never let sellers go out of stock.
Pros
Coupons and discounts delight customers and support in retaining them.
To expand reach and brand visibility, upgraded plans are available for premium users.
No coding knowledge is needed to run the platform.
Completely customizable shopify alternatives
Supports multiple revenue streams to increase the profit of the platform.
Cons
Requires hosting service.
Lacks multichannel features.
Get the most out of the ecommerce platform by trying 3Dcart and understand how perfect the platform can be a shopify alternatives.
10. CommerceUp
CommerceUp is an end-to-end, user-defined marketplace solution that benefits all user groups by meeting all their needs. The platform has its own way of handling products and maintaining stocks in a hassle-free manner. This marketplace software follows standard security protocols and is PCI compliant.
Promotional activities can be easily carried out with its in-built marketing tools. Simple plugins and extensions will increase the functionality of the ecommerce platform and make it more user-friendly. The platform contains many customers acquiring features like discounts and offers, dedicated mobile platforms, and many more also it's one of the best shopify alternatives.
Genuine features of this shopify alternatives
Easy user registration process
Advanced search and filtering options
Multiple payment options and multiple delivery options
Better order tracking facility
Simplified return and refund system.
Affiliate modules are available for better earning.
Pros
Seamless integration with any third-party API instead of shopify alternatives.
In-app checkout feature and several free apps available.
Excellent community support to clear all users' queries.
Unlimited listings with excellent store speed.
No transaction fee or any hidden charges.
Cons
Themes and templates are limited.
Reports and analytics are not impressive.
Scalability is a little difficult.
All features are far beyond Shopify and give a better impression on the CommerceUp platform and we can consider it as one of the best Shopify alternatives.
Conclusion
We are clear now that there is no shortage of Shopify alternatives. After going through all alternative platforms you will be in a confused state on which one to choose. Better list down your requirements and compare the features of each platform. The one that suits your needs and fits into the budget can be your best Shopify alternatives. Just go for it.