Aspiring to be part of the player in the eCommerce marketplace? What I should do and how I would be part of? If these questions nagging you, then the information below will help you to know how you can be part of and grow your business.
How Flipkart, Amazon, and Alibaba reached Sounding Success
There is nothing secret, their business model only makes them reach greater heights.
These websites haven't built in a single day. It involves more than 1000 hrs of manpower to deploy those websites. These eCommerce website infused with multiple features to benefit marketplace vendor, sellers, and customers.
Flipkart has evolved from an online bookstore to an eCommerce giant with a revenue of over $2.5 billion by the year 2016.
The website achieved an Alexa ranking of 139 globally and is the first Indian eCommerce company to reach the $1 billion mark.
Flipkart's Valuation in 2016
The retail sales accounted for 8.7% of the total retail sales in the world in the year 2016. This figure is expected to rise up to 15.5% in 2021. Hence, it is evident that a multi-vendor marketplace like Flipkart, Amazon, Snapdeal, etc is a profitable business and they have huge scope. Innovative inventions are very welcoming in the today markets.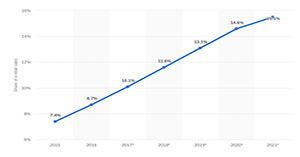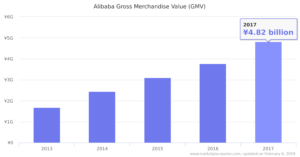 Alibaba's Valuation in 2017
Chinese eCommerce giant Alibaba (BABA) has attained eye-popping statistics. The company accounts reported 58% of all online retail sales in China. Alibaba recorded $25.4 billion worth of orders on November 11, 2017.
Let's understand the major highlights and technology factors that pillars for these eCommerce Players in the Market
Structure
Both Amazon and Flipkart structure act as midway between dealers and customers. Initially, they had not limited the products in their warehouses because it formed a contact with hundreds of merchants detained by its sellers. They make use of the sellers by taking over the marketing cost and selling of their products and it benefits large customers. Since then, the structure holds strong.
Trend Setter
Both have made a habit of looking for the latest trends and capitalizing on them before someone does. It finds out people's expectations on the product, then produces the same on its own version.
Platform
However, all these Amazon, Flipkart and Alibaba are built on different platforms though there are platforms like Magento, Prestashop, WooCommerce, and more, remains the people's preferred choices and especially with the release of Magento 2.0 versions, the platform has got more user and developer friendly additionally they are very much feasible for marketing as well.
Single Click Checkout
Most of the eCommerce sites fail is the number of steps it takes to complete the transaction. But Amazon has one-step check out for its featured customers and they are done. In Amazon, product page retains the same URL even the product is not available, thus avoiding the link rot that outbreaks so many traders.
Inclusive product Selection
Customers always want comprehensive services on the Web, and the Amazon accomplishes the needs, especially within their original focus of the book.
Technologies used by Flipkart, Amazon & Alibaba
eCommerce sites like Flipkart, Alibaba and Amazon are created chiefly on PHP. These sites provide the feel like real-time shopping. The sites are very responsive.
All their software function on Linux – Debian and most of the other systems are not built ever on Java. But they take JVM for their use.
Flipkart uses MySQL for data storage, and for caching it uses Memcached.
Flipkart uses Hadoop software for some projects to manage the data easier.
How to build an eCommerce website like Flipkart, Amazon & Alibaba
Before hiring a development Team, we need to browse several areas to make a marketplace website like Amazon, Flipkart, and Alibaba.
1. Look for Domain Name
Domain service selection is not that much ease. To make it simple, we have listed some criteria to look while purchasing a domain.
Look for the space provided
Cost Categorization
FTP Access
Loading Speed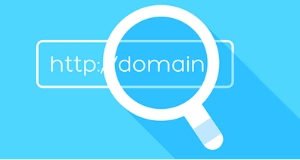 There are multiple hosting services available in the market.GoDaddy and DYN are the popular web-service used. Choose your domain name with familiar words so that the customers hooked on your site.
2. Robust Server for Hosting a Site
If you are planning to build a multi-vendor site, then you have to choose the right server. As visitors from various countries are going to visit the site, so the selected site should be robust, and secure.
Cloud-Hosting Services might be the better option for multi-vendor marketplaces as the servers are located on the Internet.
Choose the hosting service which benefits the business model. It should be cost-effective, simple to set-up, and easily accessible.
3. Use of Readymade Scripts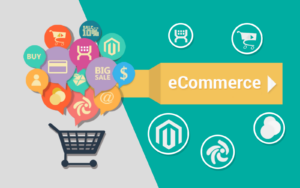 Creating a MarketPlace from scratch needs extensive technical knowledge aspects. With Readymade marketplace scripts, an alternative website like Amazon, Alibaba, and Flipkart can be built.
4. Launch Your Website
Launching is not just stopping with hosting the site on the net. You need to take some actions to reach customers. Either online or offline, you need to brand your website.
Ample of marketing strategies to reach visitors for the marketplace store. We have listed to make your choice easier.
Television Ads
Social Networking
Email Marketing
TeleMarketing
5. Leverage the power of SEO
Today, the websites are reliant on content for google ranking. Need to provide a realistic experience, the content will do it for you.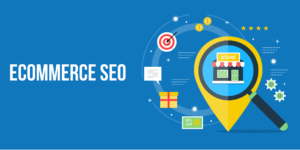 6. Increase Traffic Influx
Once the website is built, bringing visitors needs grueling effort. Online Marketing techniques need no investment to increase traffic. Explore the channels to be harnessed.
How Bigziel' eCommerce Solution can help you create an eCommerce website like Flipkart?
Choosing Bigziel e-commerce solution will not incur more expenses on licenses purchase, equipment, installations, etc.,. It is a one-time cost for all solutions.
For the independent seller, this model might be quite difficult to build and it involves more complex work. But, Bigziel's team will help you to achieve this deal.
Why Bigziel' eCommerce Solution?
Bigziel's framework can be understood by novice persons. Our solutions and cost are transparent. Our team will make your dreams achievable.
Most important features to choose Bigziel are
100% Source Code
User Attractive Dashboard Layouts
Ease Solution for Shipping Management
Single page Check out
Managing Review Options for both Buyer and Seller
Highlights of Bigziel' eCommerce Solution to build a marketplace website
Following are the main features for building marketplaces like Flipkart, Amazon, and Alibaba
Before building an e-commerce website like Amazon, let us know the essential features for setting up eCommerce website to maintain maximum conversions, and improve the shopping experience.
Design and interface must attract the user and give them a memorable experience. Depending on the customization level and increased traffic, the designer will have to conceive several revenue streams. It is the heart of the business.
It is a top-most concern of any online business. If the personal data is not secure, sellers and buyers will not feel confident in making the connection with the marketplace. Payment details of clients should comply with security and encryption acts.
We usually develop an online marketplace with multiple payment types to make sure the user groups to use those inconvenient ways. As we are into a dynamic modern world, people tend to prefer pay for the products online. Hence, payment is a must option for the online business.
In this smartphone generation, we cannot start a shopping business without mobile app. When it comes to online shopping, mobile app is necessary to reach wide audience. While developing mobile app for e-commerce business, user experience must be reliable across all devices.
Sellers should have all functionality to access online marketplace.
Both buyers and sellers should be able to update the profile when needed.
Clients should be able to manage listings based on their compatibility. Buyers should be able to browse,filter and search the products before making purchase decision. A quick view feature should be added to view.
This is to assist vendors by showing the insights of buying tendency, behavior patterns, page views and more. This feature helps the vendor to make further discussions on improvement,
These are very helpful to know how well the product reached in the marketplace. Both sellers and customers should able to view the reviews. Customers should have access to write and edit their reviews and ratings.
Marketplace site should have notifications to notify the buyers when new sale offers coming up. User must be able to configure notification settings. Push Notifications are the undeniable feature in any online business.
Social Media Share Buttons
Most of the buyers will share to social media page when they are interested in products. Integrating with social media have great impact on generating leads.
To coax the buyers, display the deals on landing page so that the buyers can feel excited and buy the deals.
Cost for Developing an eCommerce Website & App
Cost to build eCommerce website takes around tens of thousands of dollars if personalized eCommerce development is chosen. Considering the ongoing standards, the tentative average cost is of around $16,000.
| | |
| --- | --- |
| Technical Aspects | Approximate Cost per Annum |
| Choice of Platform | $300 |
| Store Design | $150 to $350 |
| Web Hosting | $18 onwards |
While looking these costs, ready-made script is the simplest way to make large merchant sites like Amazon, Flipkart & Alibaba. It costs around $1000.