Aspiring to be part of the player in the eCommerce marketplace? What I should do and how I would be part of?
If these questions nagging you, the information below will help you to know how you can be part of and grow your business.
Thinking about a successful multi-vendor marketplace, the first name that comes to our mind is Amazon. The strategy that Amazon uses for its business has made the platform to be standalone in the market. This is why every budding entrepreneur is behind Amazon's strategy and they try to learn how to create a website like Amazon. The impact that Amazon has made among the minds of the users is quite surprising and one needs to follow very closely with all the attributes that the platform uses just to create a website like Amazon.
To build eCommerce websites like Amazon, Etsy, Alibaba, and Flipkart is a feat of its own. If considering the metric and the future eCommerce sales predicted in trillions, the time is best now to create websites like Amazon, Etsy, and the sorts. With this extreme demand for online marketplace websites and apps, various retailers and start-up companies have considered developing their own marketplace like eCommerce websites like Amazon, Flipkart, Alibaba & Etsy.
If you are wondering how to create an eCommerce website like amazon, Alibaba, Etsy as setting up such an amazing multi vendor marketplace can not only enhance your popularity can generate tremendous profits.
Let us know some of the insights regarding multi vendor marketplace websites to know about their revenue.
How Flipkart, Amazon, and Alibaba reached Sounding Success
It's quite interesting, right?
It is obviously clear that today customers have the power to purchase items from any retailers. That's the reason why the online eCommerce marketplace app development plays a crucial role in shaping the business goals.
In 2018, 1.8 billion people worldwide purchased goods online. In the same year, global retail sales amounted to 2.8 trillion USD & the projections have shown a growth of up to 4.8 USD in 2021.
Flipkart's Valuation
The retail sales accounted for 8.7% of the total retail sales in the world in the year 2016. Hence, it is evident that a multi-vendor marketplace like Flipkart, Amazon, Snapdeal, etc is a profitable business and they have huge scope.
Alibaba's Valuation
Chinese eCommerce giant Alibaba (BABA) has attained eye-popping statistics. The company accounts reported 58% of all online retail sales in China. Alibaba recorded $25.4 billion worth of orders on November 11, 2017.
Amazon's‌ ‌Valuation‌
According to Statista, 2019, Amazon has crossed 150.6 million mobile users. Every minute, 4000 items are being sold by Amazon. People are highly inspired by Amazon so that around 23% of online buyers first visit amazon and then will move to other shopping cart.
Know how to build an e-commerce website like Amazon, Flipkart, and Alibaba
The leading platforms like Amazon, Flipkart, or Alibaba cannot be considered as a normal e-commerce website. All of them will come under the multi vendor marketplace category. A multivendor marketplace features and functionality is entirely different from a normal e-commerce website. To build a website like Amazon, one needs to understand the difference between an e-commerce website and a multi-vendor marketplace.
A multi vendor marketplace platform will contain several vendors linked with the platform and each seller will have a separate user interface to manage their products. Make sure you add more vendors to your platform before you plan to build a website like Amazon. Now directly entering into the session on how to build a website like Amazon. You can build it from scratch or you can easily for a readymade solution.
A Scratch Development
Building a website like Amazon from scratch is a bit tedious and will steal most of your time. You also need to have a skilled technical team who can exactly build a website like Amazon. But getting a skilled team is difficult these days as they charge you more to develop a website like Amazon. Sometimes building from scratch may run out of your budget. So it is advisable to go the next option ie. going for a readymade solution to build a website like Amazon.
A Readymade Solutions
The readymade software solution is the most economical way of building a website like an amazon. The platform will contain all the essential features that are present in the leading marketplace platforms like Amazon, Flipkart, and Alibaba. They are easy to set up and install and since it is cost-effective, it is highly recommended for any startups.
How To Build An ECommerce Websites Like Amazon, Flipkart & Alibaba
Planning to build a marketplace like Amazon, Etsy, Flipkart from scratch is a very complicated and tedious process. If you want to kick start your online eCommerce business without any intervention and delay, there are many readymade solutions that pave a better and budget-friendly way to become a successful entrepreneur.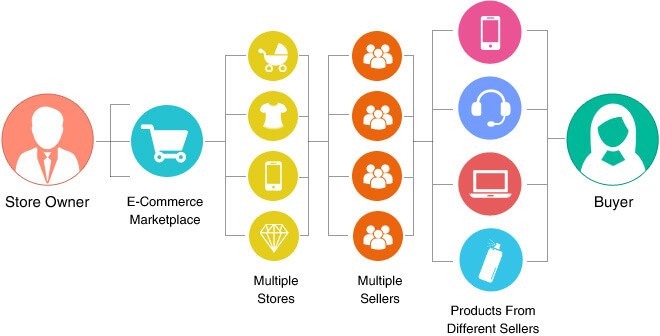 One such solution is Zielcommerce which renders indispensable services to its customers.
Create your own eCommerce Marketplace Website with Readymade Solution – Zielcommerce
Zielcommerce is a promising readymade multi vendor marketplace software solution that can help you to build a website like an amazon. The software is capable of generating greater returns and can support you in efficiently managing the platform. If you are planning to go global with your products then zielcommerce is a perfect choice as it has inbuilt multi-language and multi-currency options. Since Zielcommerce is customizable, you can completely personalize your online store and can build a website like Amazon easily.
Zielcommerce has no limitation on scalability. So the platform is reliably flexible and can withstand all the data that keeps generating as your business grows. Zielcommerce comes with an affordable price that can help aspiring entrepreneurs who dream about building a website like Amazon come true. You can instantly start your online store with easy and quick implementation of the Zielcommerce platform.
Why Zielcommerce?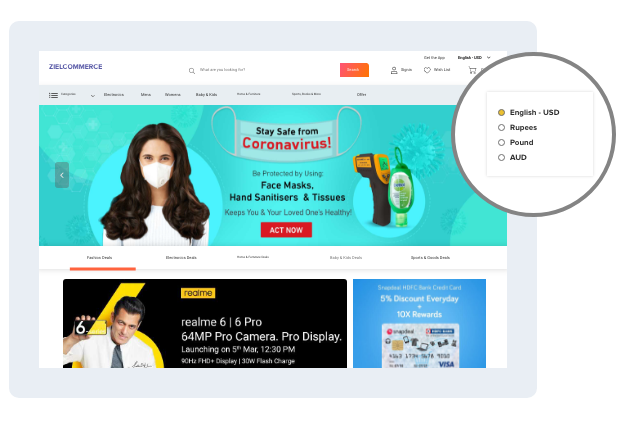 Choosing Zielcommerce will not incur more expenses on licenses purchase, equipment, installations, etc.,. It is a one-time cost for all solutions. For the independent seller, this model might be quite difficult to build and it involves more complex work.
Zielcommerce framework can be understood by novice persons. Our solutions and cost are transparent. Our team will make your dreams achievable.
Key benefits of Zielcommerce
The software comes with a one-time payment and there is no other hidden cost.
Zielcommerce has dedicated mobile apps to attract all mobile users to your platform.
You can easily set third-party integration with the platform.
Flexible payment options to facilitate customers to buy the product without any hesitation.
The users get full liberty on registering their reviews and feedback about the products they purchase.
A genuine and reliable order management system that will never miss any orders and ensures on-time delivery of the products.
Generous support for getting ranked in top search engines as the platform is completely SEO optimized.
Supports all business models and helps to increase the revenue of the platform.
Highlights Of ZielCommerce
Fully Customizable: ZielCommerce offers a fully customizable eCommerce platform that provides a great shopping experience for the customers.
Mobile Responsive and PWA's: Sell to any customer across the globe through ZielCommerce' responsive website and accelerating mobile application.
Ready to Launch: Powerful, feature packaged ready to launch solution make your business reach the target audience without any hassle.
In-built Marketing: ZielCommerce includes many built-in multi-vendor marketing solutions to promote your service anywhere anytime unperturbed.
End-to-End Support: 24*7 uninterrupted support from technical experts from planning till implementation is taken care of by our team of professionals.
Awesome Features For Your Flipkart, Amazon & Alibaba Like Marketplace Platform
Following are the main features for
building marketplace like Flipkart, Amazon, and Alibaba
Building an e-commerce website like Amazon & Alibaba, let us know the essential features for setting up an eCommerce website to maintain maximum conversions, & improve the shopping experience.
Webstore Setup
Design and interface must attract the user and give them a memorable experience. Depending on the customization level and increased traffic, the designer will have to conceive several revenue streams. It is the heart of the business.
Security
It is a top-most concern of any online business. If the personal data is not secure, sellers and buyers will not feel confident in making the connection with the marketplace. Payment details of clients should comply with security and encryption acts.
Multiple Payment
To build a marketplace like Amazon or Etsy, the customers are dispersed globally. Build a marketplace app with all the available payment methods apart from credit and debit cards like Paytm, Amazon pay, PayPal, etc to attract and retain more customers.
Mobile App
We cannot start a shopping business without mobile app. When it comes to online shopping, mobile app is necessary to reach wide audience. While developing mobile app for e-commerce business, user experience must be reliable across all devices.
Social Media Integration
Social media integration not only does the it lessen the registration process but it also offers different ways for the customers to promote your marketplace app from sharing your referral coupon and discounts to their friends and relatives.
Push Notification
The push notification is a crucial way to hook your customers into your marketplace app. It actually reminds your customers about many things like promotions, offers, sales, restocks notification, etc. you can send the right notification at the right time.
Listing Management
Clients should be able to manage listings based on their compatibility. Buyers should be able to browse,filter and search the products before making purchase decision. A quick view feature should be added to view.
Reviews And Ratings
When you want to build an online marketplace website like Amazon, This rating & review feature in your marketplace not only develops trust but also makes your customers make an informed decision to choose the best
Analytics & Latest Deals
This is to assist vendors by showing the insights of buying tendency, behavior patterns, page views and more. To coax the buyers, display the deals on landing page so that the buyers can feel excited and buy the deals.
Cost to Build a Multi Vendor Marketplace Website Like Amazon, Flipkart, Alibaba Or Etsy.
If you wonder how to build eCommerce websites like amazon, flipkart or Alibaba will depend on the technology stack requirements and the sales channels you choose.
Many entrepreneurs plan to build an eCommerce website and create an instant messaging app. Features that will set the cost to build website like amazon or Esty or Alibaba and more for your website are listed below
Multilanguage & multicurrency
Unlimited products & categories
Reviews & Ratings
Easy & simple Checkout
Order & purchase management
Stock & Tax management
Reports & Google Analytics
Admin & Seller Dashboard
Automated Newsletter & Email
Offers & Discounts
Marketing & Promotions
Zielcommerce will be an impeccable marketplace solution where the whole process of creating, hosting, and managing the online store can be streamlined and simplified. A dream of creating Amazon like an eCommerce website can be fulfilled by purchasing Zielcommerce.
Hope you have understood how to create a website like Amazon. Start your development process and make your platform go live. Do necessary marketing and promotions that can get your platform more organic traffic. Fine-tune your marketing team and make close all leads they get online. Only conversions can bring your profit. Also, take necessary steps to secure your online marketplace platform that can increase your credibility online.