The demand for online grocers is highly elevated in recent days. Leading online grocery platforms like BigBasket and grofers have doubled their deliveries compared to last year. People find it more stressful to stand in a queue in a grocery store and get the products for their house.
The on-demand grocery eCommerce platforms like BigBasket and grofers deliver the product at the doorstep. This convenience is highly enjoyed by the buyers. Also, online grocery platforms can be accessed round the clock and you can schedule your delivery at your convenience.
A Recent Report Says – Online grocers are increasing at a 3x rate every year and the entire sector is growing at a 13% annual rate.
Find How Big Basket & Grofers Business Model Works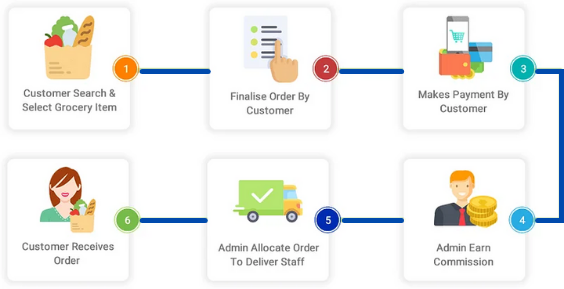 BigBasket Business Model
Bigbasket is considered to be the largest online food and grocery eCommerce website that is filled with 18000+ products and thousands of reputed brands.
Bigbasket basically has two models. One is inventory-based and the other is hyper-local delivery. In an inventory-based model, BigBasket buys products from leading brands and will store them in their inventory and will sell those products to customers.
In hyper-local delivery, BigBasket will tie up their business with local stores and will transfer the order to them and they will deliver to customers who are in their locality.
Grofers Business Model
Grofers is also a leading online grocery platform that is well known for customer engagement. Just like BigBasket, grofers follows its own business model and has crossed several milestones.
This business model consists of local stores, users, and delivery staff. Grofers gets connected to several local stores through its grocery eCommerce website and users will choose their products and the order is assigned to the delivery staff who will pick the product from the allotted store and will deliver it to the customer. This is how grofers work.
How Individuals can set up Online Grocery Ecommerce Store Business?
Getting into it, here are some grocery business models that you can use to start your grocery eCommerce platform.
You may have a physical store to sell grocery online through eCommerce website
Offer a platform for sellers who can list their grocery products and you deliver them
Have partnered with local grocery stores and promote their products on your online store
You may have your website listing various stores across wide location and your online store gives on-demand delivery
Important Things to Know Before Starting an Online Grocery Store
Some set of guidelines that will be helpful if you would like to launch a grocery eCommerce platform.
1. Decide The Target Location
This is a major step in starting an online grocery business. Fruits, vegetables, milk, etc., have a limited shelf life, they can be delivered only to a limited distance. You have to plan ahead to set up your warehouse or make a tie-up with local grocery shops for smooth hassle-free order fulfillment.
You should analyze the eating habits and buying patterns of people within your geographical target including the population of households who access the internet.
2. Register Your Business
This is a very essential step in their entire process of setting up your online grocery eCommerce platform. Get help from chartered accountants or tax consultants to complete the registration, VAT, Service Tax, GST and other formalities. Open a business account in a bank of your choice.
3. Inventory Arrangement
Keep your groceries stocked in a warehouse or make a tie-up with local grocery stores that can supply the products on a regular basis.
If you're buying in bulk, ask for volume discounts and negotiate the product rates for wholesale purchases. Alternatively, you can get in touch with sellers who are interested in a multi-vendor grocery business model.
4. Setup A Local Delivery System
For a grocery online shop, success depends on how fast you can deliver the products to your customer's doorstep. Most of the customers prefer same-day delivery & some groceries have to be delivered possibly to maintain quality standards.
Having an efficient delivery system plays a crucial part in the online grocery selling business. Initially, you have to hire delivery boys with bikes to manage grocery deliveries.
5. Build An Online Grocery Website
This is the backbone of your whole process and it involves developing a website like BigBasket which serves as the face of your online grocery store.
Having a website can save you from power bills, office space rent, and staff salaries. Invest some time in refining your ideas and concepts to fit in your online website. Your site should be quick to load, easy-to-use and mobile-friendly from a customer perspective.

If your budget permits, you may incorporate a mobile app for android and iOS users. To get this done, develop your grocery eCommerce website and app from experienced developers in the field like ZielCommerce.

The best approach is to go with a pre-built technology solution like readymade grocery scripts which allows you to easily manage your web store within your budget.
6. Payment Methods
If you opt to buy online, pick up in-store (Bopis), doorstep delivery, the best choice would be cash on delivery (COD) to accept payment from customers. You may accommodate online payment transactions through internet banking, debit, or credit card payments via third-party payment gateways.
7. Create A Marketing Plan
Market your online grocery stores website like BigBasket using offline methods like advertising in newspapers, hoardings, pamphlets, door-to-door visits, bulk SMS, or online marketing methods like social media ads, search engine marketing, display campaigns, SEO, and more.
How To Make A Website Like Bigbasket or Grofers With ZielCommerce?
Zielcommerce is an ultimate choice for entrepreneurs who look at how to make a website like BigBasket and grofers. Either pandemic or not, Zielcommerce can build you a perfect online grocery platform with advanced shopping cart features.
Own a complete white-labeled online grocery platform with Zielcommerce and engage more customers to your platform. Zielcommerce supports specific mobile applications that run on both android and IOS and increases your market capital without much effort.
Easily gain the attention of your audience through the feature-rich UI & UX of zielcommerce. Delight your customers with on-time delivery with ZielCommerce as the platform provides everything that is needed to attract customers.
ZielCommerce supports you with genuine revenue generation business models that can get you more sales and improves your investment. The users will also get a better shopping experience that will help you to retain your customers.
Mind-blowing features of this grocery ecommerce platform
Secured multiple payment modes that will make customers easily decide on buying products.
A quick search and a quicker check-out feature will get you greater conversion.
No hidden charges and transaction fees while buying this online grocery platform and the grocery software come with a one-time payment.
The mobile payment (UPI enabled) feature will let customers pay and products through their mobile phones.
Have better customer engagement through the review and rating feature of this grocery eCommerce website.
The best customer service experience can be gained in this online grocery platform.
Pre-integrated with a popular API that facilitates the work of the admin of this grocery eCommerce platform.
Supported with tax and management APIs which simplifies the work of the admin.
No need to worry about how to make a website like Bigbasket, as Zielcommerce is a one-stop solution for all your business needs.
Revenue Models For Online Grocery Store
Zielcommerce offers turn-key solutions with its grocery eCommerce platform to quickly launch your online grocery store website like big basket or grofers. It provides web and mobile applications with a huge range of features to offer a high-end customer delivery experience.
Commission Management
As an admin of the store, get a commission from vendors for every sale made on the website.
Multi-vendor online grocery store works on commission-based revenue models which helps to accelerate the growth of your business and yield maximum profit rates.
You can achieve this by doing market research on the most popular products and their demand growth.
Featured Products
Vendors or sellers pay a certain amount of fee to feature their product in the premium places on your e-store.
It may include in top results when user search for specific products, list in recommended products during the search, featuring on the specific page where user bound to look into the page when he's searching for some product.
The main idea is to offer more visibility for the user to purchase the item.
Listing Fee
Earn a fee to list products on your eCommerce store. You may have a fixed listing fee for regular vendors for specific items.
This is because you can make quality sales when you retain your sellers which forms a cycle. When people gain trust they repeatedly buy from you and so as the sellers who would like to repeat in listing their products with your store.
Subscription
For vendors who need to take benefit of same-day delivery and gain profit with more sales list their products under prime subscription. Vendors must pay an additional fee to make use of this feature.
Some top players also offer discounts on products for customers who have enrolled in yearly subscriptions.
Other Revenue Streams
On-site promotion for grocery sellers
Start a blog and publish sponsored content
Hosting banner ads
Sell useful products like reusable carry bags
Sell user data to market research companies
You can gain maximum profit by choosing the right revenue model and various streams. Consider the factors:
Target market
Size of your business
Budget, age and popularity of your business
You've to research & analyze the factors against your business goals & requirements choosing the model that suits you.
Summing It Up
Always understand the functionality of any online grocery platform before you build your own store. Know the pros and cons of the grocery eCommerce website and then it is good to enter the business. People need to have more attention to framing their new business.
To survive as the best grocery eCommerce platform, you need to have all the comprehensive features that will gain the attention of the audience.  
At BigZiel Technologies, we have developed ZielCommerce – a readymade grocery eCommerce platform that enables grocery business owners to quickly set up a feature-rich online grocery website and a compelling mobile app for the users on the go.
We hope you have found a way on how to make a website like BigBasket through this article. Always gain the customers' trust through your quality and service and make them your brand ambassador. Never miss any opportunity to delight your customers through your online grocery eCommerce platform.