The mobile app is one of the major reasons why ecommerce is making a huge profit in the market.
The wide usage of smartphones and tablets had made a huge impact on the m-commerce industry. So, the ecommerce owners who own their Magento eCommerce store have started to build their Magento app for their store.
Scope of Mobile App for eCommerce Store
With the drastic rise in demand for mobile commerce in business, it has currently become very imperative for everyone to have a mobile Apps. Mobile Apps usually get more traffic to brands. Instead of reaching to laptops or even ecommerce stores on mobile browsers, people now prefer to shop via mobile apps.

Why is it so?
Reliability is the vital thing that can bring you on the peak of the results and highlight your services. Alongside the good services, it is also significant for
your ecommerce website and its mobile application to have good UI design.
In this day and age, people favor making payments through debit, credit cards, and internet banking. So, having a mobile application feels satisfactory for them.
Makes your customers more comfortable to shop with peace.
You can easily get the targeted clients
Usually, Mobile Apps affords reliability and high speed.
Improves Customer Relationship by maintaining clients details and receiving the feedback which is helpful to improve the long- term customer relationship.
What is Magento?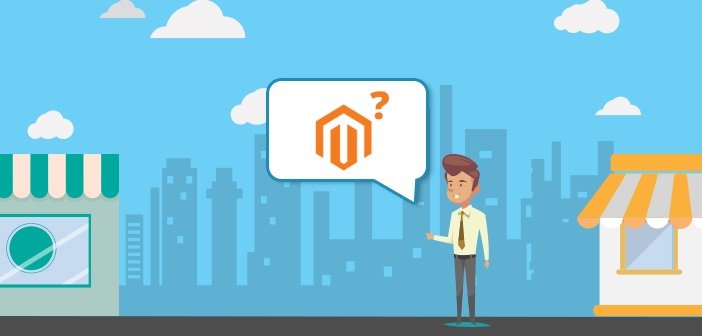 Magento is perhaps one of the most popular, dominant and successful eCommerce platforms in the market. The open source nature and free of charge makes it the unsurpassed eCommerce web development solution for businesses.
Furthermore, the flexibility and ease of use are amazing. The overall ideology behind Magento was to craft a low priced and a ready-made shopping solution so that even a layman can start his own online store without seeking any technical support.
Why Magento is the most preferred than other platforms?
When you have a lot of options to choose the best platform to build your mobile app for your ecommerce store, why do we choose Magento in the first place? To answer your curiosity on the question, have a look at the below statistics,
With these numbers in mind, let us look on to its advantages.
Magento Community Edition is an open source platform with an option for easy download.
Flexible
Larger outreach
Increased sales
Satisfied customers
Steps to build a mobile app for Magento Store
Its really fantastic you own an ecommerce website for your store, but to reach your customer's device, you need to have a Magento mobile app. You need to plan and implement the essential and additional features for your Magento ecommerce mobile app.
Key Features:
The key features that are needed to be included are as follows,
1. User Authentication:
With the help of a Mobile app for your Magento store, let your user register or login to the store through email address, Facebook or even Google plus. Make sure you provide password recovery through the Magento mobile app itself.
2. User Management:
The customers should be provided with the option to manage the user profile along with different options for order management and wish list management. User should be given the opportunity to write feedback and ratings after the order has been received.
3. Product Management:
The admins will be able to display the store products to the users very attractively in the Magento mobile app. Admin can set items to fall in different categories and can showcase them through banners and sliders.
4. Easy Navigation:
The customers can easily navigate to various CMS pages, user settings, notification menu, cart, wishlist from the mobile menu.
5. Simple cart management:
It means easy checkout. Without a fuss, the customers will be able to select any of the checkout methods already set by them and also choose the delivery address.
6. Google Analytics Integration:
By integrating your Magento ecommerce mobile app with Google Analytics, the owners are able to analyze the business, customers behavior, purchase history, etc to increase the ROI.
7. Push Notifications:
Sending the deal, offer notifications to your customer at the right time will absolutely make them happy and thereby the chance of making a purchase is always high. Based on the analytics report, you can even send the notification based on their shopping interest.
8. Secured transaction:
It provides a secured payment gateway for your customers to purchase from your app. Integrating the most secure and reliable payment gateways that offer security makes your Magento app more alluring.
9. Multilingual and Multi-currency support:
The Magento mobile app renders help for the customers worldwide to shop in their local language. The users can easily pay for the item with their preferred currency.
10. Automatic Synchronization:
With Magento mobile app, you can craft real-time sync between your Magento ecommerce store and mobile app. Once the sync is completed, the product details, order details, tracking, etc will be reflected in your mobile app.
11. Fully Customizable:
You can integrate any number of APIs and technology by developing in Magento.
12. Deep Linking:
It ensures that your Magento mobile app users will not abandon the cart without reaching the checkout page. Be they are in searching in Google, Facebook or Instagram, through deep linking, you can pull your potential customers to the product page.
ZielCart to Build Mobile app your eCommerce Store
Zielcart's Magento mobile app is a readymade mobile commerce solution that assists you to build your mobile ecommerce apps in both Android & iOS platforms. The technical experts bestow you with a great UX, first-class security & compatibility on your chosen ecommerce platform.
You can convert your impressions to conversions by easily integrating Magento mobile app to your shopping store. Having in mind that the customer experience leads to revenue, Bigziel Technologies is a pioneer in developing Magento mobile apps on both platforms.
Zielcart assures you 100% customization of the Magento mobile app for your ecommerce store.
Build your dream mobile app to reach your customers in hand at anywhere and anytime using Zielcart's readymade solution.