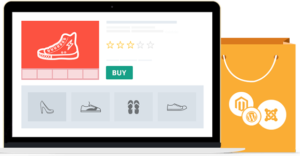 There are many business people who have already decided to go online. Why an online e-commerce store improves the sales ratio?
The answer is simply because people can order anything of their choice at one click from their home relaxing at a couch.
Is that the only reason?
No, by building an online eCommerce store, the business people earn a lot of profit instead of the traditional ones since it acquaints a lot of products inside one store.
Doesn't it look, fabulous guys?
For your note, there were 7.6billion people in the World out of which there were 1.66 Billion Digital Buyers in 2018.
Did you notice it?
21.8% of the World's population purchases online, and in 2021, this number is expected to climb to over 2.14 billion.
Read : Comparison Of Top 10 Multi Vendor Marketplace Platforms: What You Need To Know
That is a mammoth pool of potential buyers. If you are thinking to sell online, I hope these numbers will surely help to convince you to build an online ecommerce store. Are you waiting for me to explain the cost to launch an online ecommerce store? You can't decide the accurate cost for building an online ecommerce store but you can approximate it. The cost varies depending upon different functionalities, features, developer rate, Technologies/tools used, business goals, etc.
The Questions to Analyze Yourself for Approximating the Cost to Launch the Online E-commerce Store
Ask yourself about the sales and traffic goals of your online ecommerce store.
Make a note of all the features required for the site.
These two questions assist to approximate the cost to build and run a successful online ecommerce store.
Online eCommerce Cost Factors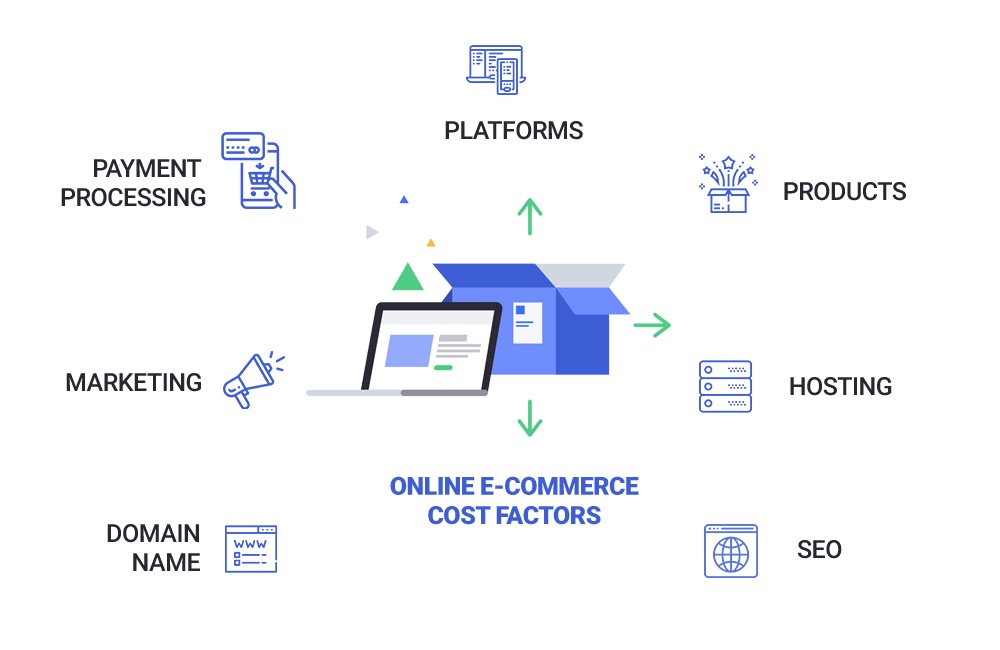 1. PLATFORMS
For similar functionality, the costs for designing an e-commerce store may vary depending on the platform used and its license cost. The ecommerce Platforms used can be Opencart, Salesforce, Woocommerce, Magento, Xero, Shopify, etc. The platforms may be hosted or self-hosted.
A hosted platform run on a server outside your reach. Though there are pros like simplicity, stability and no coding, it is not customizable. A self-hosted store will reside on its own server with access and possession of the code. It guarantees customization but it's not cost effective. The cost to build an online ecommerce store with the top rated platforms are provided below.
2. PRODUCTS
You can't initiate an online e-commerce store without having something on it. The cost hugely depends upon whether to start your own inventory or you drop shipping.
In the drop shipping method, when a customer makes a purchase from your store, the order is forwarded to the supplier. The supplier ships the product to the buyer under your name. It has its own drawbacks like limited branding and personalization. If the supplier runs out of stock, you have a huge possibility of gaining angry customers.
If you decide to have your own inventory, you need to invest to buy products, stock it somewhere, pack and ship. but there are pros like you can withhold the branding and customization.
Cost of setting up the inventory may vary between $100 if a local supplier to $1000 if the supplier is far away.
3. HOSTING
The reliable hosting solution allows fast interaction with the server. The things you need to consider before buying a hosting are:
Identify the storage limits, traffic, number of products and, orders. Then take a wise decision on selecting between a shared hosting or dedicated server.
Are you oscillated to choose the best which suits you?
If you need to have faster transaction and loading time, choose dedicated hosting service like Digital ocean. It will obviously cost more but the advantages it provides are limitless like dedicated IP address, admin control, speed, location in the country of your preference.
The average cost can range from 320 to $1,000 per month.
Whereas, if you are a start-up, looking for budget-friendly hosting at the initial stage, don't worry, you have options too. Shared web hosting will occupy your site in a server along with other sites where the cost factor will be minimum like say, ($10/month on average)
Shared web hosting is a service when your site dwells on a server along with multiple other sites. It is cheaper ($10/month on average) but comes with a risk of slow transactions.
4. SEO
The cost of SEO depends on the size of the site, the scope of the work and, whether the tasks are outsourced or used in-house. SEO is also vital in terms of thousands of web pages with titles, descriptions, image attributes, products, etc to have your newly built online e-commerce store to rank number one.
The price can differ considerably, anywhere from $1,000 to $100,000 a month.
5. DOMAIN NAME
The domain name is the name of the online e-commerce store you are going to launch. You are in need of a domain name to start your own online store and it's really cheap. You will frequently find GoDaddy running sales for $0.99.
Always prefer .com domain name for your e-commerce store since people will always default to .com extension while typing in a browser.
The Domain name can be purchased as cheap as $0.99 to $15/month.
6. MARKETING
Your buyers will definitely find through one of the search engines the like Google, Bing, etc. The search results take one of the two forms. First, one is paid results which are displayed at the top. Every time a customer clicks on the add, Google will charge the site based on the keyword density.
The next one is organic results which effectively displays your site. This happens when your website has better relevance to the keyword or the phrase the person s searching in the search engine on the other end.
Marketing your products via SEM( Search Engine Marketing (email marketing, social media marketing includes in the total cost which better yields a good profit.
7. PAYMENT PROCESSING
In an online ecommerce store, the final step is a transaction. All payment processors like Shopify will charge you approximately 2 to 3% plus $0.30 /transaction.
Read : How to build e-Commerce Website like Flipkart, Amazon & Alibaba

Other Common Online Business Costs
Deciding to build a new online e-commerce store is quite exciting, but before sketching the entire system, have these cost factors in mind to effectively build an online store.
Human resources
Inventories
office space
Office furniture and utilities
Payroll
Professional consultants
Insurance
Shipping
Taxes
Travel
Traditional Marketing
Account and finances institution fee
Indispensable Features While Building your
Online E-commerce Store
Regardless of whatever you sell, the online e-commerce store which you have planned to build should have the following essential features blended with some unique and innovative ones to enable magnificent shopping experience.
FEATURES
DESCRIPTION
User-friendly
The simplicity of usage should be the primary goal while creating an online ecommerce store.
76% of the customers say that the most crucial characteristics in any site are its ease of use.
High-Resolution Photos and videos
Gone are the days of uploading a picture of the product with few bulletins to describe the product. The shoppers now want to view the product from a different angle and zoom the product to get the complete feel of the product before they make a purchase.

The images used should be of high resolution and it needs to be optimized for better loading of the page.

Customer Review and Rating
Before purchasing a product, the shoppers read the review of the product. The rating is considered to be the top-notch factor for any sale. Both positive and negative reviews should be welcomed to prove your customer that the positive reviews are not fake.
Wish Lists
E-commerce stores that aren't exploiting wishlist are actually losing their revenue by not retaining their customer. There is nothing in business to bookmark what the customer has wished and will most likely to purchase in the future.
Recommendations for you/ people who bought this also looked for for
Just be seeing this phrase, the shoppers will get excited to view more products related to their previous search history.
Frequently asked questions (FAQ)
The sellers should gain some trust from the buyers. With this section, you are establishing credibility since it's not a physical store.

It also provides a self-help place to address customer problems regarding product support, returns, refunds, etc.

Exciting offers
Many sites use this feature for marketing. Some of the most reputed websites like Amazon, Flipkart will have this offer at their header part. It helps to increase the sale percentage since it makes the buyers purchase more products in deals and offers.
Security
The online ecommerce site may be a lucrative target for cybercriminals. Security of the customers credential should be secured by the sellers. Magento and WordPress platforms combined with Woocommerce has been used widely since it provides all the security features.

Other security essentials are as follows

SSL Certificate
Firewall
Two-factor authentication
Privacy policy link

Complete shipping informatio
Keep hold of your shoppers by providing the shipping charges if any in the product page with the estimated delivery of the product. Captivatingly, buyers spend 30% more on an order if the online store provides free shipping.
Return and Refund
Return policies should be mentioned noticeably. This is a trust building factor to build and run an online ecommerce store.
Research shows that

67% of the customers check the return policy before purchasing
2% of the shoppers will purchase again if the return policy is easy and simple
30% of the consumers return the product

Shopping Cart
It's an essential feature to be noted while launching any online e-commerce store. It is the place where the customer stores their products to check out. The cart should be flexible to welcome both the guest user and the registered user.
Multiple Payment Gateways
A well built online e-commerce store should have multiple payment gateways to make the shopping process smooth.
Mobile Compatibility
Many sites use this feature for marketing. Some of the most reputed websites like Amazon, Flipkart will have this offer at their header part. It helps to increase the sale percentage since it makes the buyers purchase more products in deals and offers.Ensure that the mobile view is responsive and well accommodated according to the device used.
Know about the E-commerce Software/Platforms
Creating an online e-commerce store has happened to be an easier task since there are tremendous Platforms. Platforms like WooCommerce, OpenCart, Shopify etc are ruling the market. These platforms provide all the necessary functionalities for building a perfect online e-commerce store. With such a readymade solution, one can chop down the e-commerce website cost considerably, focusing more on customization and promotion.
According to Upwork, the freelance developers working on those platforms, charge anywhere between $50 and $125 per hour. Professional agencies, which has a specialized e-commerce developer, cost more – they charge up to $250 hourly.
Stipulated Time for Launching an Online E-commerce Web
While building an online ecommerce store, we have always two different options to go for. One is to work from scratch and the other is to develop with the help of readymade solution which makes the process more cheaper and fast.
If your choice of creating and running a website with a readymade solution, you may complete it within no time. Whereas, when you are working from scratch with more functionality, features and different customization to make you stand unique from the competitors, the custom made online e-commerce store will give you a better result.
The development time may vary anywhere between three to four months with basic functionalities.
Factors that Affect the Cost of Building an Online Ecommerce Store
A good quality platform for building an online commerce website will provide you with the module or extension support. Always check whether the extensions are supportable in your platform chosen to develop an online ecommerce store. Ensure the security and reliability of the custom code.
Custom eCommerce functionality is usually the supreme cost in creating an online ecommerce store. It's also the most vital thing to help your business operate more efficiently and to furnish your site a competitive edge. For instance, you may want customized search functionality in your online ecommerce store. Not a lot of your opponents have it, so it will help you dig up the sale.
Generate a list of all ecommerce features you imagine to be customized. Make sure you share that list with the eCommerce web design company you have chosen. This facilitates to get you an accurate estimate.
Rough Comparisons for the Most Excellent Website Builders
| WEBSITE BUILDERS | COST PER MONTH |
| --- | --- |
| Shopify | $9 |
| Squarespace | $26 |
| Volusion | $15 |
| BigCommerce | $29.95 |
| Woocommerce | $0 |
| Magento | $0 |
Do You Love to Launch an Online Ecommerce Store?
We at BigZiel help you to develop your dream online e-commerce store with the customization you specify with low cost, high quality and, very less time. Don't hesitate to reach us and get the cost to drive your business to the next level.